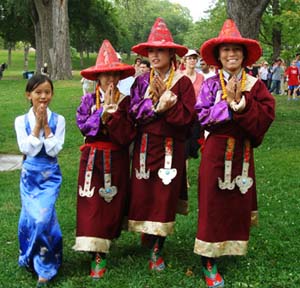 The Mission
To celebrate the good humanness, precious life and universal teachings of the 14th Dalai Lama, and to promote his worldwide efforts for peace.
The Motivation
To bring people together, catalyze dialogue, find connection and generate harmony. To remind us all of our own inherent goodness and ability to change the world around us.
The Action
Joy:


The Buddha Prince is first and foremost a celebration, of everything that the Dalai Lama stands for, including his wonderful love of laughter.

Education:


The Buddha Prince helps to inform the general public about the Dalai Lama's history and worldview.

Cultural and Religious Preservation:


The Tibetan heritage is under threat of extinction. The Buddha Prince helps to preserve this spiritual way of life.

Environmental Consciousness:


The Buddha Prince promotes a respect and appreciation for the natural world. The story focuses on the Dalai Lama's deep love for all sentient beings and his profound connection with nature.

Community Outreach:


We work to connect with as many cultural, religious and artistic communities as possible, and find volunteers to participate in visiting productions of The Buddha Prince.

The Greater Good:


Proceeds from The Buddha Prince performances benefit the Tibetan people, as well as projects and organizations that are geared towards non-violence and human rights.

Serving Diverse Populations:


When performed outdoors, The Buddha Prince is a free event held in public parks. Admission is by donation only, and therefore allows for large audiences of all socio-economic backgrounds.